Dress & Solidarity: A Visual Archive
What does resistance look like in 2017? What can we learn from each other about wearing our politics on our sleeves? And how can we share practical tips and advice for taking to the streets as a dressed body politic?
At last month's Women's Marches, both the primary march on Washington, DC and the many national and international sister marches, attendees displayed their solidarity in a variety of ways. Many held clever and painstakingly handmade signs. Thousands wore hand-knitted Pussyhats, a viral craft project that became the distinctive visual of the day as crowd shots showed a sea of bobbing pink heads. Interested in how marchers chose their attire for the big day, FSJ asked our broader community for their photos and accounts of what they wore, in the hopes of collecting and growing a compendium of examples of how we're dressing for the resistance.
One theme that emerged in the process of reflecting upon these submissions, which echoes some of the critiques in the public discourse around the marches, was that of inclusivity and the centering of particular identities and experiences of womanhood. It is not lost on us that the majority of the submissions we received were from white, cisgender women. We know that this was not the only demographic participating in the marches, nor is it the only group whose needs we must demand the government address. As one of our contributors who does not fall into this group remarked, perhaps those whose identities are generally not so centered by the movement are the ones who in fact had to think more closely about what they wore to march, or whether it was safe to attend at all. We wish to acknowledge that reality and to welcome more marginalized voices to participate in our conversation as we progress. There will unfortunately be more reasons and opportunities to hit the streets in solidarity in the coming months and we'd love to continue sharing these sartorial reflections from all of you.
Keep resisting, keep persisting, stay nasty.
Marilou, DC march
As told to Laura Snelgrove
The Pussyhats were really interesting because the vast majority of them were handmade, and there was so much variation among them. A couple people just took elastic bands and tightened up the corners of other hats so they became little perky ears. I didn't [wear one], because my hat had several symbols of Canada on it, so I wanted to make the point of being a Canadian there in solidarity and shared concern. There was a ribbon with 'Canada' on it and then a circle with 'Canada' and then at the back it was printed 'Canada,' so people could quickly spot it and there were quite a few expressions of appreciation.
When we got out of the subway at U Street there was a table with a whole bunch of different t-shirts for the march and so [the one I'm wearing] is the Wonder Woman symbol and then underneath it says Women's March on Washington and then the date. I bought XXL so that it could go over my clothes, just as an extra layer of warmth. We were there for 7 hours. And even after that people were still marching, it was still going on. Because it turned into not just a march past the White House and the Ellipse, but it was kind of like water flowing. People just kept flowing into all these different pathways, around the White House, but not in a linear fashion. It was all quite organic.
The hotel prices and airbnb prices were just sky-high, so we stayed at the end of the Metro line and came all the way in. So when we came off the Metro, there were women from an NGO with all of these pre-printed signs. They were handing them out, but people kept moving, so it was kind of random which one I got ("Respect Women of Color"). But I noticed other people had "intersectional human rights," another had "LGBTQI rights are human rights", another one had "women's rights are human rights" and they must have printed probably hundreds if not thousands and they just handed them out as people were streaming off the subway.
In fact there were a lot of beautiful handmade signs. When we got to our hotel late on the Friday there was a van from Indiana and it said 'DC or bust' and we went in and the lobby of the hotel looked like a craft fair. All of these women from Indiana who can come in a couple of vans were spread out around the lobby of the hotel. It was close to midnight and they were making their signs. It looked like a scrapbook convention. They had glue, they had feathers, they had all these different colored pens and one woman had made these beautiful handmade buttons. The one she gave me said 'why disrespect your first home?' and there was an image of a pregnant woman. Lot of creativity.
Some of those signs that were being made in the lobby of our hotel had lace trim and little pearl buttons and little ribbons hanging from them.
Also, in terms of "fashion," there were also practical aspects: the forecast had called for rain, and knowing that the crowds would be thick, we were planning for the fact that sometimes in crowds of this scale you can't get out. There were rules about clear containers only, no backpacks, and we knew there'd be no way to get anything to eat.
The key is wearing layers to respond to the conditions.
Another thing I had brought was my fleece-lined leather kerchief from my motorcycling [days]. Because we'd heard there'd been tear gas and pepper spray at the protests the night before, and that can just be pulled up over my nose and mouth if necessary.
I brought packets of peanut butter and pieces of chocolate, knowing there'd be no other ways to eat, and purposely brought no water because there'd be no access to bathrooms.
Jon, Montreal march
As told to Laura Snelgrove
I wore a navy blue skirt over grey tights and a hunter green sleeveless gaping-side side-boob-risk shirt with a sweater underneath under a dark teal oversized bomber jacket, and my practical Bean boots. I had a navy blue baseball cap on.
And I wore those things, well this is boring, but partially because I haven't really unpacked [from a recent 6 week long trip], and because I had been feeling lately that I had not been dressing for my best gender. So this felt like a perfect day to get back into my femme embodiment, so it definitely felt important to wear a skirt that day and so it felt good just for myself, like I had been looking for a reason to get dressed properly and this felt like the first time I did that since getting back home. And also because of all the bullshit going around in terms of second wave trans exclusionary feminist perspectives in the lead-up to various women's marches, I wanted to bring some non-binary femme visibility to the march.
I considered wearing pink. I actually was going to wear this (pink sweatshirt) under the bomber jacket, and I don't know why exactly I didn't. The Pussyhats don't appeal to me. I'm not a hater, but I don't love them, and there was something around wanting to show up in some femme armor and not wanting to tap into I guess the pink-as-signifier thing. First of all not wanting to be interpreted as positioning myself in support or solidarity of this particular vision of womanhood and second of all not wanting to be seen as appropriating it either, and just wanted to show up for my own reasons in my own aesthetic.
Johan, member of the Sisters of Perpetual Indulgence
Montreal march
Translated by Laura Snelgrove
Concerning our outfits as Sisters for the Women's March, we had determined to come in 'civil dress' without makeup, with just our cornettes and finally we decided to not even wear the cornettes because we didn't want to take any particular visibility vis a vis the women present.
Many Sisters elsewhere went [to their respective Marches] in full habits and make up, but in Montreal our choice was different.
There would be as many answers [to your question] as there are Sisters, but for me, I make a distinction between my "Sister dress" (ceremonial dresses, costumes, drag, etc.) and my civil outfits (which are made up of clothing that I've worn to anti-globalization protests, for instance). In general, it's Doc Martens – yellow!!! Because that allows me to be recognized if taken down by police – baggy pants or harem pants and a "political" tshirt. Further, we have a choice between wearing make up or not (both traditions exist among the Sisters, the originators didn't wear it) since it's a strong visual signature and also a strategic choice with respect to the action we're taking. And finally there's our cornettes (that's also a strong visual signature and the ultimate sign of belonging to the Sisters of Perpetual Indulgence). So we choose all these elements according to the action at hand and to what we want to do personally and collectively.
In the case of the Women's March, when we saw that there weren't any LGBTQ or queer groups gathered (at least that we were aware of) we decided to go without make up, in civil dress, and with our cornettes in our bags to decide on the spot depending on how we felt. And when we were there it seemed to us that putting our cornettes on would have been 'taking up visual space' without any other utility besides signaling OUR presence. We didn't have placards, slogans, or LGBTQIA+ flags for example, so our visibility wouldn't have served a purpose beyond us as a group, and that wasn't our goal. So we kept our cornettes in our bags and participated in the protest as Sisters but only in our hearts! It was a protest for women, by women and with women so it's normal that we would reflect attentively on visibility and the goal of that visibility we would be taking for ourselves.
Rachel, LA March
I attended the Los Angeles Women's March wearing a white t-shirt customized with puffy paint, jeans, and a denim jacket with an "Imagine Equality" patch pinned to my back. My outfit choice was based on a practical desire to be comfortable and avoid carrying a sign. The weekend before the march, I bought a 40 pack of puffy paint from Michael's (NOT Hobby Lobby) and hosted a t-shirt painting evening with two other women who attended the march. We looked online for inspiration, mostly the herstory instagram. I ended up going for the classic Venus symbol flanked by flowers. My friend doodled boobs on her shirt, inspired by the wish that she could just go shirtless. It felt therapeutic to puffy paint together and was definitely a stress relief as we were all preparing for the horror of inauguration week. The patch was made by Abby Walton in Brooklyn. Abby screen printing a whole lot of patches to distribute. The exhibition of home-made signs and customized clothing was a magical part of the Women's March. Protest is a crucial part of democracy. It's how we express ourselves and what's more democratic than expressing yourself with something you made with your own hands!
Amy, DC March
One thing that stuck out were the clear plastic backpacks/bags. On the website they said"Backpacks are not permitted unless they are clear and no larger than 17"x12"x6,"" which of course couldn't be controlled with so many people, but I think it's kind of interesting how this manifested onto the body.
April, NYC March
More than anything I wanted my ensemble to celebrate the freedoms we have as Americans: the freedom to vote, the freedom to protest, the right to assemble and make our voices heard. The color palette speaks for itself and the dress is a wild polyester op-art concoction from the 1960s, a decade rife with political protests and social upheaval. It's hard to tell in the photo, but the red and the white are pieced, curved sections that swirl around the dress. Admittedly, the beret was a bit of a nod to the style's collective association with 'power to the people' á la Che Guevara. I added the glasses and the balloons for a bit of lightheartedness in the face of the disheartening reasons we were taking to the streets. 'We will protest with indignation, but we will do it with love, not hate!' I gave away the balloons over the course of the March to the kids attending with their parents; they also have the added benefit of helping you locate your friends in a big crowd! :)
Lynne, Boston March
I marched in Boston with a group of friends, and I made sashes for us, inspired by the early 20th-century suffragist sashes. Remarkably, there was a woman there, wearing her grandmother's original suffragist sash! Here are a couple of pictures of all of us posing together, including one with Barbara Lee wearing her grandmother's sash.
First picture, from left to right: Lynne Zacek Bassett, Gail Nessel Colglazier, Barbara Lee, Tibby Chase, and Caren Cormier Harrington. Barbara Lee established a foundation to nurture female political talent.
Second picture, from left to right: Gail Nessel Colglazier, Lynne Zacek Bassett, Caren Cormier Harrington, and Tibby Chase.
Tibby and Caren chose to have their sashes just say "Women Vote," instead of "Nasty Women Vote." Gail's and my sashes had Wonder Woman patches at the hip. I only had two patches, so the other sashes had ribbon rosettes instead.I also wore a shawl that belonged to my mother, and carried a bag that had belonged to her, to give her a presence at the march. She was an ardent supporter of women's rights in the 1960s and 1970s, a member of the AAUW and League of Women Voters.
I made the sashes by stitching together red, white, and blue ribbons. I made the letters by finding a font I liked online, then blowing it up to make a pattern. I cut out the letters, traced them (backwards) onto the iron-on adhesive that quilters use for applique, which has paper on one side, then ironed the adhesive paper onto black fabric. I cut out the letters again, peeled off the paper, and ironed the letters onto the white ribbon.
The sashes got a lot of attention on the day of the march, and people who are not crafty were pretty surprised that they were homemade.
Kimberly, DC March
I made the pink Pussyhats for myself and one friend I marched with. (My first knitting project ever!) The other friend I marched with is a pro knitter and made her own! We both chose to go with cute, practical clothes as we boarded a 5:30AM flight to get to DC the day of the march, and the weather forecast was for 40's- 50's. I wore my girl biker boots to add a bit of toughness to my otherwise very "untough" personality! We were happy for the hats that day- it was quite chilly! An accessory that I had was a clear plastic backpack. We were told that police would not allow backpacks unless they were clear. It has become part of my marching "gear" now. Since DC, we have marched again already here in Boston. The women in the USA are angry and coming together in a way I have NEVER witnessed before, and we are not letting up!
Shannon, DC March
I was wearing a red white and blue body con dress I bought a few years ago from Topshop, along with white Adidas sneakers and my sister's thrifted denim jacket with a few of my favorite pins (my Bernie Pin, heart pin, Frida pin, and a think American flag pin. I had on a pink Pussyhat that Katie knitted for us all, and a small side purse. I wore the dress because even though I am very mad about this election I wanted to wear something patriotic since I am sick of the narrative that patriotism only belongs to neo-con scum. Jacket was for warmth and so I could put my pins on something and not ruin them, and the shoes were for comfort to stand on my feet all day.
Patti, Kansas City MarcH
As told to Lauren Downing Peters
I am a baby boomer. I've been seriously politically active since Obama won in 2008. My children were adults, my job was part time, and I was finally able to turn my attention to politics in earnest.
When I was a young, 21-year-old single mother, treading water, I didn't have the luxury of considering the world around me, not to mention, becoming a feminist. Many women like me stood by their men, went to work inside or outside the home, and did not pay attention to politics, let alone the environment, equal pay, Planned Parenthood, LGBTQ, Roe vs. Wade, decent health insurance, or lower interest rates on student loans.
On January 23, 2017, these women and I came together. I attended my Kansas City, Missouri rally...my first march! I talked to a lot of my cohorts, read their signs, and they read mine. What I learned from that glorious Saturday was that if we women seriously united with one mind, we could rule peacefully, lovingly, and sanely. We are the majority!
In terms of what I wore, I wore polka dots because they make me happy. I don't knit, so I wore a pink bandana, polka dot sweater, jeans, and my sign...which I decorated to match my sweater. My gal pals in the picture also turned out in their finery. One had a black sweater with a uterus embroidered on the bottom while the other one, Lou, had a cutout of an old woman pinned to her back who was also donning a Pussyhat. So cute!
It was such a beautiful, inspiring day. I hope we can keep this momentum up; we've got a long, hard fight ahead of us.
Theodore, Montreal march
This is Theo. He's 3. This is his normal winter hat, which we were happy to realize was appropriate for the sea of pink hats we found at the march. However, his kept morphing into this distinctly phallic shape, which we took to be a good reminder that not all women have pussies!
Linda, Montreal March
(Bottom center in photo from the Montreal Gazette, in glasses and pink scarf)
The need to attend the Montreal solidarity Women's March on Washington built up over the week until I definitely committed on the Saturday morning. Like many people, I had watched in horror as misogyny, racism, and homophobia became increasingly and publicly normalized during the election campaign, and felt the gut punch when that vision--over the possibility of putting an articulate, strong, albeit flawed (There's a crack in everything...) woman--prevailed My husband and my best friend of 50 years (with whom I shared a Ms. Magazine subscription some 45 year ago) both expressed regret that there wasn't time to knit a pink Pussyhat. I agreed and, for perhaps the first time in my life (or at least for a very long time), lamented the fact that pink does not in any way feature in my wardrobe. It was suddenly very important to me to wear a sign of my (re)commitment to the women's (and larger social justice/equity) cause; defiantly, pink had become a symbol for equally defiant 'nasty women.' It was as I had one foot out the door that I remembered that pink scarf.
Abby, DC March
I attended the Women's March in Washington D.C. with my mom and a group of about 15 women ages ranging from 9 years old to 75. When it came to what I wore, I was characteristically subdued. This is not unusual for me and my everyday dressing. I've NEVER liked dressing up, I always hated Halloween for as long as I can remember. I would usually make it about a block trick-or-treating as a kid before calling it quits. That being said, I knew people would be in all sorts of flamboyant protesting gear which I was excited to see, but I knew I'd be more of a spectator than a participant in this capacity. I wore light army green colored overalls, a long sleeve t-shirt and an olive green jacket with a navy blue hat and black sneakers. I also brought a scarf as an extra layer - it's all about the layers on a warm winter day! The one extra piece that I did wear was a handmade pin that I pinned on my jacket given to me and our group by my godmother made by a family friend's daughter. It's a drawing of an inner lip tattoo that says "Stay Nasty" on it, which I loved and was happy to represent - both in sentiment and as an accessory.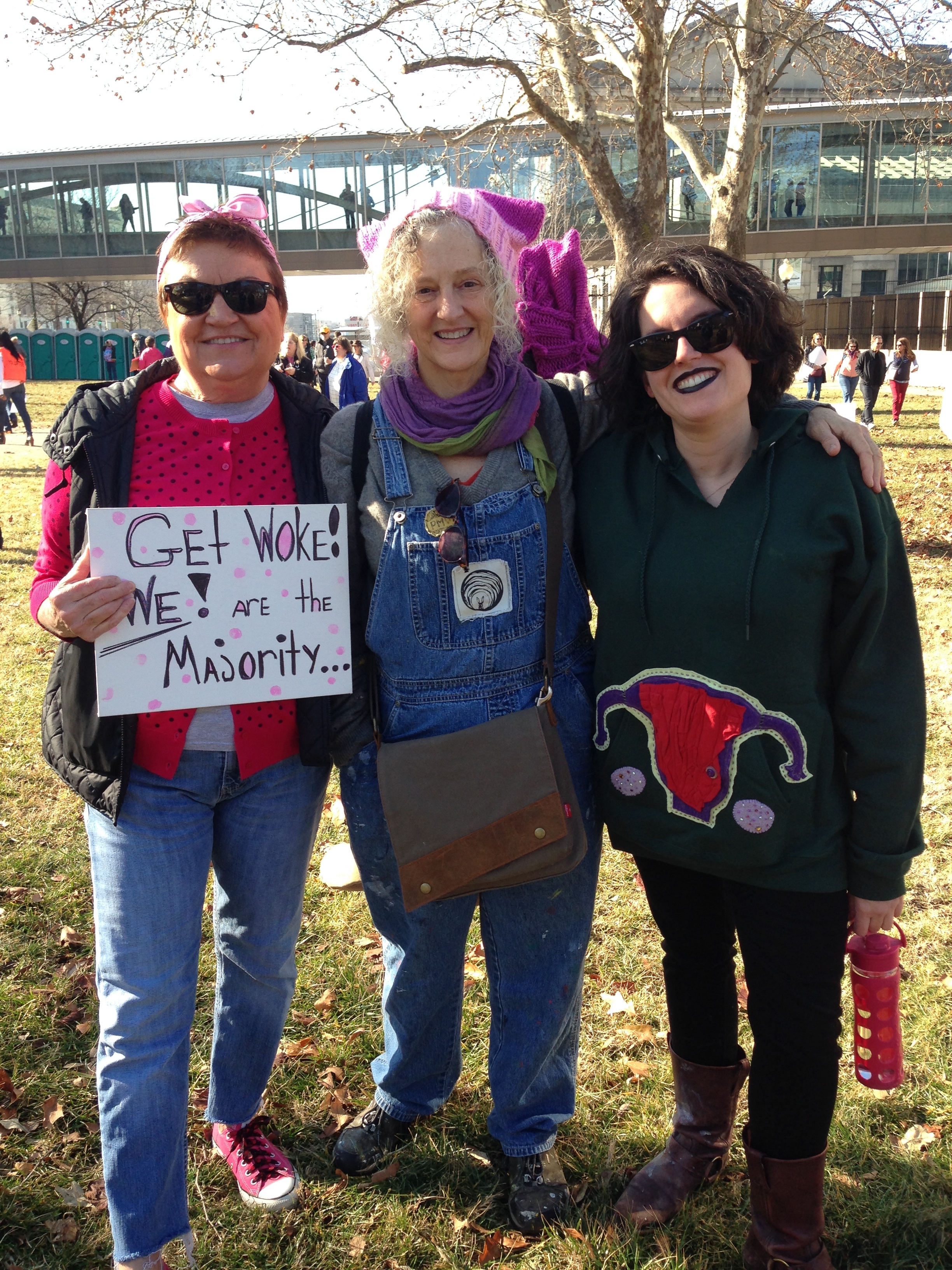 Reflections from the March4women
Editors' note: The following are accounts from protesters who attended the March4Women in London on March 5, 2017. They were collected by FSJ Community Member Rebecca Smith. In breaking with the above submissions, Rebecca recorded general impressions of themes that cropped up amongst the women rather than explicit individual accounts. Rebecca's photos from the demonstration appear after the accounts, in no particular order.
It's cold in London at the start of March, and rainy, but then the sun bursts through and in a crowd you soon heat up, all that has to be taken into consideration when we come out onto the streets to declare our allegiance to the feminist cause. Everyone I spoke to mentions the weather as being the first deliberation when choosing how to dress to protest, layers may have covered up statement tee-shirts but it looked as if everyone had made a deliberate attempt to convey their feelings with what they had decided to wear.
What Emma Wore
I was able to ask Emma Bennett, the host for the event, her reasons for choosing to wear her 'Girls Bite Back' top. As she explained to me, "I felt I should wear something which reflected my role as host, dressing is a communication tool, it works without words, so as you are walking it signals to others who may not know what the march is about."
Emma explained that it is not her usual style to dress-up, she hasn't got a suffragette outfit, but if she did today would have been the day to wear it, she also observed that some of us wear our values explicitly but who knows who among us was wearing feminist-knickers today…undercover protest dressing!
Suffragist Dress
I don't know if suffragist dress, long turn of the century outfits representing the original movement, crop up in other countries or if this is an oddity in the UK. The ladies I spoke to who wear the colours of the suffragist movement are all very aware of the power that their clothes have to convey the message of equality that they are still fighting for. They told me that dress was always part of the movement and it helps them to get their message across; they explained that without the visual signal they wouldn't get attention, people who may not have known about suffrage are intrigued, ask questions and become informed due to their curiosity as to why these odd ladies are costumed in purple, green and white. I noticed that all the suffrage dressers had very sturdy shoes and umbrellas; they recognise the power of preparation as well as communication.
PussyHats
Another group of suffragists told me how they hadn't known where they were going when they came out of the station but followed someone in a Pussyhat. These ladies, the Stow WI, had on Edwardian dress with pink knitted Pussyhats, a wonderful mix of symbols, the classic purple-green-white with a flash of pink, I love the way that the Pussyhat can be interpreted in many forms, hand-knitted, chunky, fine, bright, pastel, fabric all getting across the same message. As one elderly woman told me "it's not about only for Trump dear it's for all those dickheads who think they can take what they want."
I was interested to find out how the message of sexual harassment which sparked the hats, was explained to the children wearing them, what did they understand about the intention of the Pussyhat? One mother told me she explained to her two daughters, five and seven, that some men don't know how to respect girls intelligence so they had to learn what was acceptable, as these men didn't always listen it was easier to make it clear for them by wearing a pink hat; she said that she hadn't gone into the whole "what is a pussy thing" and the girls hadn't asked. They were pleased to wear funny pink hats that their Grandma (also with them) had knitted for them.
Handmade
Handmade elements appeared in all manner of dress and banners, the Stow WI ladies had an exquisitely embroidered banner as did other suffragette groups. Creativity appeared in all manner of painted signs, glitter, sparkle and bright colour was a strong theme on placards and adorning hand- made additions to garments; jackets with patches and lettering, badges, appliqué all declaring solidarity DIY style. Sparkly face-painting was popular; the visuals of peace, love and unicorns live on in young girls who want to express their feminist credentials. One girl told me how much she was enjoying the fact that there was such diversity in the way that people felt comfortable expressing who they were in a safe environment, "I'd be worried to go to the pub like this but you know on a march everyone will understand…it's safe to wear who you are because we are all united."
"This is who I am all the time."
Meredith told me since Trump had come to power she felt it was imperative to wear and express her values at all times, all day every day. She had waited four weeks for her "the future is female" t-shirt to arrive from LA, she had been tempted to make her own copy! She told me she wanted to wear her principles on her sleeve: "I must…it's too important not to." She was happy that labels were responding to the political climate by offering mainstream options to wearing values "it normalises the issue and we have more options of how to wear what we believe in."
Loulou also said she dressed like this all the time, although she had made a deliberate choice to wear her "WSPU green" coat for the march. She enjoyed communicating her politics and gender with how she presented herself, dressing for her own pleasure whilst saying "this is me" is empowering for her. Badges on her jacket were used by one young girl to safely signal her values, "they hint at what I believe in" and "you have to get close to read them so I don't stand out too much."
Free the Nipple
It was cold and we got very wet from the intermittent downpours, but there was a hardy group who braved the elements and proclaimed their right to reveal as much as they wanted to regardless; they had sheer tops and shorts, showing their beautiful bodies with pride. The contrast between these young women and the suffragette dressers was vast in terms of amount of clothing but they were expressing the same ideals; we are all in this together 'We Are All Human Beings" as my copycatCreatures of Comfort sweatshirt declared.